Get the latest updates on Dress for Success news and events here! 
FOR IMMEDIATE RELEASE: February 28, 2022 *CONTACT: sparker@dfscincy.org (513) 322-1786*
DRESS FOR SUCCESS CINCINNATI AND THE CARE CENTER OF LOVELAND ANNOUNCE A NEW PARTNERSHIP OFFERING DFSC STYLING SERVICES AT THE CARE CENTER.
*Cincinnati, Ohio: Dress for Success Cincinnati, now located in Norwood, and The Care Center in Loveland, announce their partnership plans to utilize The Care Center's facility for Dress for Success Cincinnati's StyleHER Program*
Dress for Success Cincinnati will begin offering its StyleHER Program to clients at The Care Center in Loveland. Through DFSC's StyleHER program, women receive a personal styling experience that inspires confidence and provides a complete interview outfit, or ten mix-and-match items to start out their new employment, free of charge. Through this new partnership, DFSC's StyleHER Program will be available at The Care Center to all women in the area looking to utilize our services.
"We are ecstatic to offer Dress for Success' styling services in another location and make our services more accessible for women in the surrounding areas of Cincinnati," Dress for Success Cincinnati Programs Director Dr. Angela Rivers-Harper said. "Our goal is to expand our reach and work with more women through this new partnership."
The Care Center of Loveland is located at 11020 S Lebanon Rd in Loveland, Ohio. The Care Center offers resources for the whole person including job assistance programs, life development workshops, and one-on-one mentoring and coaching. The Care Center offers all of these resources under one roof for DFSC clients being styled at the facility.
"Our mission is about helping people thrive in life, and one critical way we do that is by helping them reenter the workforce," Executive Director of The Care Center, Greg Knake, said. "We also have a high value for not trying to recreate the wheel, and we instantly identified that Dress for Success Cincinnati already had a model that was successful. It is a perfect fit to incorporate Dress for Success Cincinnati's services in what we do."
Dress for Success Cincinnati and The Care Center will hold a Grand Opening announcing this new partnership on Wednesday, March 9 from 3-5 p.m. The public is welcome to attend to learn more about Dress for Success Cincinnati's Styling Services, tour The Care Center and connect with representatives of both organizations.
Get involved: Dress for Success Cincinnati invites you to support this partnership as a volunteer or financial donor. This new location will need volunteers to work one-on-one with our clients as personal stylists, sort clothing donations and organize the style studio. Additionally, our
financial donors make everything that we do possible. Consider donating to support DFSC at our new satellite site by visiting dfscincy.org/support-get-involved/donate-money.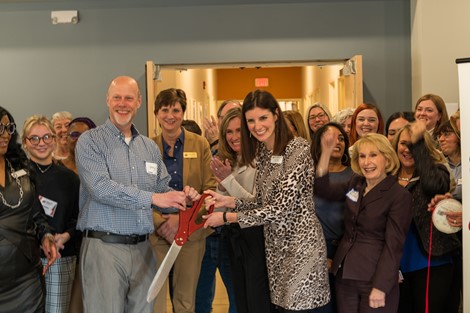 It's all about HER! We are here for you. We see sisters, not strangers.