Our 2022 event was held at the Hard Rock Casino in Cincinnati on September 20 and featured a fashion show by three of our clients, a fashion show by designer Daniel Wingate and a special tribute to the Dress for Success Cincinnati founder, Mary Ivers.
Before the doors opened, guests browsed through our raffle packages and did some shopping at our new Portaluca pop-up shop.  
To start the event, our co-chairs Lisa Massa and Lali Minocha introduced Angie Hayden, a DFSC client who shared her story of resilience. 
Our honoree this year was Danielle Lewis Jones, Head of Communications at Kroger Health. Danielle is involved with a diverse group of organizations, all with a passion for helping others.  
To honor Mary Ivers, who passed away in February 2022, DFSC Executive Director, Lisa Nolan, brought Mary's daughters, Carrie Ivers Reeuwijk and Kate Ivers, to the stage. They presented the Mary Ivers Success award to this year's recipient, Domonique Broomfield.  
The client fashion show included Arielle, Gwen, and Stella. After a video presentation of their journeys, they walked the runway dressed head to toe in Portaluca clothing.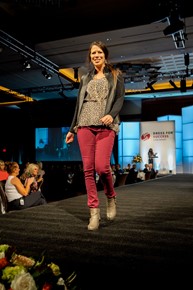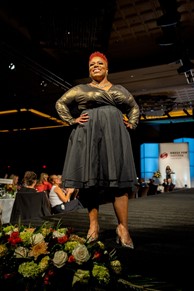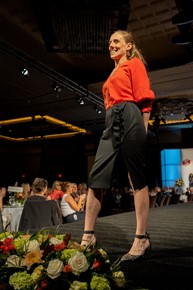 Lastly, we ended the afternoon with a presentation of gorgeous fashions by Daniel Wingate. This year's models included community members and DFSC clients.
Through ticket sales, raffle purchases, donations and more, we are proud to announce that we were able to surpass our fashion show financial goal for the year and raise over $245,000 for our organization.  
This event, and the guests who support it, allow our organization to thrive. The money raised at this event is the reason we can continue to serve women across the Greater Cincinnati area. 
This funding is the lifeline of our three programs—StyleHER, HigherHER and EmpowerHER—that each benefit our clients in transformative, important ways. Whether it's a need for clothing, career training, networking, or all of the above, these opportunities simply wouldn't exist without the financial support of our guests and donors. 
The support we received at our 2022 Fashion Show was truly overwhelming, and we are looking forward to using it to create the best possible experience for our clients. Without events like this, we could not have the impact we have on our clients, and they could not get the support they truly deserve. 
Thank you to our amazing sponsors who made this event possible!  
Consider attending the 2023 Dress for Success Cincinnati Fashion Show or making a donation online today. Your support can make all the difference to those who truly need it.