Learn about the 'artificial effect' that COVID-19 has had on the gender wage gap and how women have faced even more obstacles in the workforce since its onset.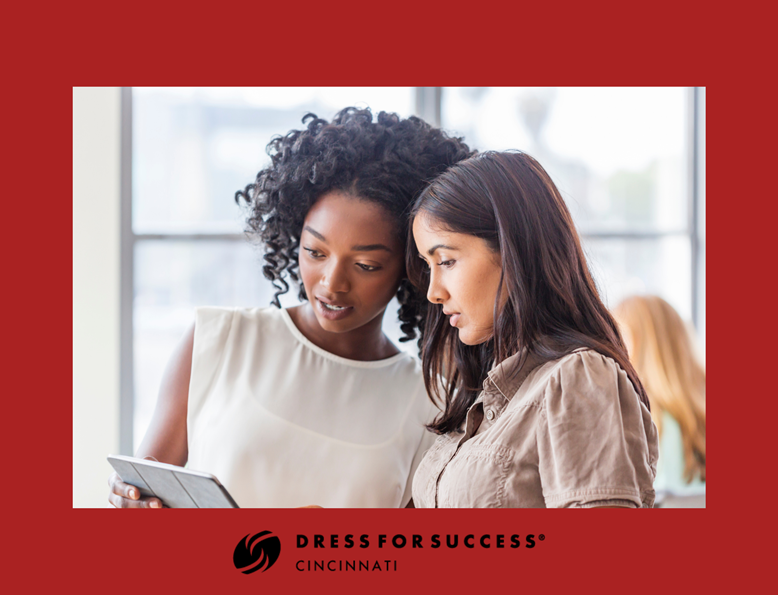 The COVID-19 pandemic was inarguably a difficult time for the American economy and American workers. This was an especially challenging time for women in the workforce, and as such, Dress for Success Cincinnati hopes to make a positive impact for affected women. We believe that the first step in gathering together to create change is educating our community on what is happening and why.  
Thanks to the article 'Lost Jobs, Stalled Progress: The Impact of the "She-Cession" on Equal Pay' published by the Institute for Women's Policy Research, we have been opportune to learn more about the gender wage gap and the effect that the pandemic has had on that gap. According to this article, there has been an 'artificial effect' on the gender wage gap in 2020 due to COVID-19.  
As you may know, it has been reported that women earn a fraction of what men earn on a yearly basis, creating what is known as a "gender wage gap." This gap is even more perplexing when considering race and comparing wages of Black, Latina and Native American women to wages of White men.  According to the Institute for Women's Policy Research, "Based on trends in women's and men's earnings from 1960 onwards, it will take another 39 years (until 2059) for women's earnings to reach the same level as men's." 
The gender wage gap for full-time, year-round workers has interestingly narrowed from 17.7 percent to 17.0 percent since the start of COVID-19. However, this is not due to progress made, but rather, the "uneven pandemic-related job losses" for women in lower paying jobs. This change in the gender wage gap is considered to be "artificial" or fake because the loss of employment for women with lower-paying jobs skewed the median to appear that women were being paid more on average. In reality, a large number of lower-paid women lost their jobs and were consequently no longer included in the data, increasing the median. 
The article also reports that the percentage of job loss as a result of COVID-19 was higher for women than for men. "The number of women full-time, year-round workers declined by 6.2 million (11.9 percent) and men's fell by 7.5 million (11.2 percent)." In addition to this information, the article states that "Women with higher earnings were more likely to keep their jobs and have full-time, year-round employment."   
This disparity in unemployment existing not only between men and women but between levels of employment for women in the workforce is a major factor in the gender wage gap narrowing and further proves that we have not yet achieved the progress we hope for.  
 
Even with this "artificial affect" producing what appeared to be progress in the wage gap for women overall, an alarming disparity in wages still remained for minority women. "On average, Latina women earned $28,911 less than White men, just 57.3 cents for every dollar that was earned by White men. Black women earned just 63.9 percent of White men's median annual earnings in 2020, or $24,420 less," the article states.  
The article also reports that the average Latina mother who remained employed throughout the pandemic still lived within the 'near-poverty' threshold during this time. "Median earnings for a year of full-time work for Latina women ($38,718) left an adult with two children near poverty," the article states. "In 2020, near-poverty (200 percent of the federal poverty threshold) for a family of three was $41,704 per year." 
This goes to show that even with the gender wage gap appearing to narrow due to this 'artificial effect' created by COVID-19, there is still an important portion of the female population who have been disadvantaged by the pandemic. 
Not only has it caused unemployment for women, COVID-19 has also expounded on existing barriers for women in the workforce, such as "lower earnings in occupations recognized as essential during COVID-19; lack of paid family leave and affordable, quality care; and discrimination in compensation, recruitment, and hiring." These barriers have only grown since 2019, effecting employment opportunity for women across the nation. 
As workers regain employment and the economy begins to replenish, it is pertinent that we as a community take important steps to aid women in their journeys to achieve economic independence and empower them to fight onward toward eliminating the gender wage gap.  
If you would like to participate in Dress for Success Cincinnati's mission to help women in the community thrive among these obstacles, consider getting involved as a volunteer or making a financial donation to our organization.  
As a volunteer, you can assist with a number of initiatives, including sorting interview clothing for our clients, styling our clients, spreading your knowledge and expertise through speaking at one of our HigherHER Career Development Program sessions, and many more.  
Additionally, making a financial donation goes a very long way in supporting our organization and offering interview outfits, career development programs and many other forms of service to our clients.  
You can read the full article by the Institute for Women's Policy Research here. (Copyright permission for use has been granted by the legal owner of this article.)
Hegewisch, A., & Mefferd, E. (2021, December 3). Lost jobs, stalled progress: The impact of the "she-cession" on Equal pay. IWPR. Retrieved January 26, 2022, from https://iwpr.org/iwpr-publications/fact-sheet/lost-jobs-stalled-progress-the-impact-of-the-she-cession-on-equal-pay/