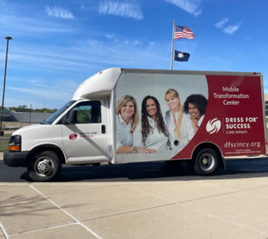 In the heart of Greater Cincinnati and Northern Kentucky, Dress for Success Cincinnati (DFSC) is making a profound impact on the lives of women. Since the beginning, we have been on a mission to empower women to achieve economic independence by providing them with professional attire, networking opportunities, and career development tools. But what happens when transportation barriers stand in the way of these services reaching those who need them the most?  
In 2011, DFSC received a substantial grant that would prove to be a game-changer for the organization and the clients we serve. The result? The introduction of the Mobile Career Transformation Center (MCTC), a groundbreaking initiative that takes our full complement of styling services directly to partner and referral agencies across 12 counties in the Greater Cincinnati and Northern Kentucky region, effectively breaking down the barriers that prohibit many clients from accessing our main and satellite locations. 
When an agency expresses interest in hosting a Mobile Styling event, our Styling Services manager reaches out to set up a time and date. Any clients who are interested in being styled fill out our "Style Kit Form," which asks about her fashion preferences, sizes, needs and more. Before the event, our volunteers work hard to create the "Style Kits," which includes two full outfits, shoes, a purse and jewelry. We also include undergarments and feminine products if requested.  
Once we arrive to the Mobile Styling event, the women are given their Style Kits to try on in one of our pop-up dressing rooms! If something doesn't fit or they don't like it, they are able to switch it out with another item from the multiple racks of clothing we bring with us. We always bring a wide array of clothing in all sizes, colors and styles to make sure each client feels stylish and confident!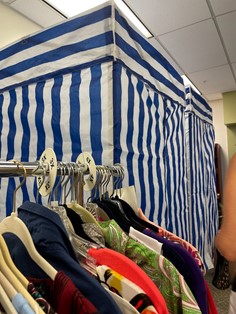 Dress for Success Cincinnati was only the second affiliate of the Dress for Success network to establish a Mobile Styling Unit, a testament to our commitment to innovation and inclusivity. 
Since its launch, the MCTC has served over 2,000 clients who would otherwise have had limited access to DFSC's styling services. Over the years, the impact has only continued to grow. In 2021, DFSC served 90 women at 13 different mobile events. In 2022, our outreach dramatically grew, assisting 221 clients via the MCTC, accounting for approximately 30% of styling appointments that year. 
Fast forward to November 2023, and DFSC has already served 289 clients through 20 mobile events, on track to surpass the 300-client mark by the year's end, making up approximately 35% of all stylings in 2023.  
The reach of the MCTC isn't limited to established agencies alone. In 2023, we extended its mission by hosting seven mobile events at local high schools and universities, providing support and empowerment to over 140 women on their professional journeys. 
Our dedication to expanding access doesn't stop here. Our MCTC already scheduling visits for 2024 and we have set ambitious goals to meet the increasing demand. Based on the overwhelming interest from referral agencies, we are gearing up for an even busier year in 2024. After exceeding the 2023 goal of two mobile events per month, we have set our sights on one mobile event per week for 2024, ensuring that we can serve as many women as possible. 
The Mobile Career Transformation Center is a beacon of hope for those facing transportation barriers, ensuring that no woman is left behind on her journey toward economic independence. As we continue to expand and innovate, we are proving that when communities come together to support one another, the sky's the limit for what can be achieved. With the MCTC leading the way, the future is looking brighter than ever for the women we serve.