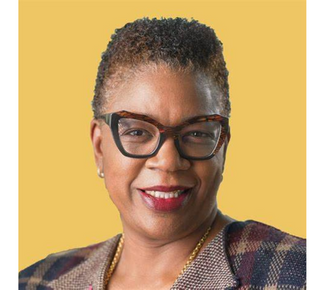 In 1999, DeAnna Hoskins became the first ever client at Dress for Success Cincinnati. Soon after, DeAnna started attending the Professional Women's Group meetings, now known as EmpowerHER, and her journey began. Today, DeAnna is the current CEO of JustLeadership USA, the only national non-profit organization run by formerly incarcerated people. In this role, she focuses on humanizing formerly incarcerated people by reducing stigma and harm in communities impacted by mass criminalization. 
JustLeadership USA's (JLUSA) mission is to amplify the power of people directly impacted by the criminal justice system to self-organize and dismantle oppressive systems in their communities. Founded on the principle that "those closest to the problem are closest to the solution but farthest from resources and power to do anything about it," JLUSA educates, empowers and elevates those directly impacted so they have the resources to advocate for themselves, their families and their communities.  
DeAnna has recently been featured on Good Morning America advocating for those unable to take part in President Biden's student loan forgiveness plan. The 1994 Crime Bill prevents anyone with a criminal background from applying for Federal Student Aid, including Pell Grants. This results in many formerly incarcerated people having to take out personal loans with much higher interest rates.  
"I have yet to meet a person who thinks they are coming back (to prison.) It's society that holds those barriers." 
At Dress for Success Cincinnati, we know and understand how important removing barriers for women is, especially formerly incarcerated women. Our partnership with CHANGE Court allows us to empower women and help them achieve their goals and reach their dreams. You can read more about CHANGE Court here.   
Learn more about DeAnna and her story by visiting our website and learn more about JustLeadership USA by visiting www.jlusa.org.  
If you'd like to help us continue our 20+ years of empowering women, please consider making a donation. Your gift goes directly to helping women in the Greater Cincinnati and Northern Kentucky region on their way to achieving their dreams.