Dress for Success Campaign is a Success
Generous donors give a total of $1.2 million to support recent move and strategic growth.
[Cincinnati, Ohio]: Dress for Success Cincinnati proudly announces the successful completion of its $1.2 million TransformHER Campaign—the first funding campaign in the organization's history.
 Dress for Success embarked on the campaign earlier this year to relocate the organization to its new home at 4623 Wesley Avenue in Norwood, further develop programs to support its clients and ensure sustainability for the future.
Over 300 donors, including Dress for Success clients, contributed a grand total of $1,225,000. "We could not have reached our goal without lead gifts from the Sherie Marek Family and the Charlotte R. Schmidlapp Fund, Fifth Third Bank, Trustee, as well as generous contributions from the Mary Ivers Family, the van Rooyen Family and many others," says Dress for Success Cincinnati Executive Director Lisa Nolan. "We are so grateful for this tremendous outpouring of generosity. The women in our community need that kind of support now more than ever."
The campaign's success can be credited, in large part, to the spearheading of Campaign Chair, Lisa Massa and Honorary Chair, Pam Sibcy, and to the dedicated members of the campaign committee: Eileen Brumback, Judy Daar, Elizabeth Edwards, Mary Hemmer, Monica Ivers, Ann Nickolas, Myrna Overstreet, Missy Richardson, and Michele Stoffer.
For the first time in history, we are seeing what the Institute for Women's Policy Research calls a "shecession," an economic downturn where job and income losses are affecting women more than men. Moreover, the Congressional Budget Office is projecting that employment won't return to pre-pandemic levels until 2024. That's three more years of women leaving the workforce at alarming rates.
Over the last 22 years of service, Dress for Success's track record to more than 19,000 women attests to the quality of our services and the organization's commitment to supporting women in their pursuit of economic self-sufficiency for themselves and their families. Dress for Success offers a time-tested, successful program that can be adapted and adjusted as the job market evolves. The organization is best known for providing interview and employment attire to women returning to or entering the workforce, but that's just one offering. The organization's work includes a wide variety of workforce development programs that form a seamless continuum of support women can access from any point depending on their specific needs and where they are in their job searches or careers.
Dress for Success reopened to in-person client services in June, at its new location in Norwood, and is ready to serve all women who would like support in their job searches and careers. Referrals for services may be submitted at https://dfscincy.org/client-services/client-referral/.
Gifts to support the work of Dress for Success Cincinnati continue to be gratefully accepted at https://dfscincy.org/give.
About Dress for Success Cincinnati: The mission of Dress for Success Cincinnati is to empower women to achieve economic independence by providing a network of support, professional attire and development tools to help them thrive in work and in life. Dress for Success International was founded in 1997. The Cincinnati affiliate was founded in 1999. They have since served 19,000 women and their families. Dress for Success Cincinnati is still one of the few programs in the region focused specifically on the needs of unemployed and under-employed women and their families.
To learn more about Dress for Success Cincinnati, please visit https://dfscincy.org/. 
Dress for Success Cincinnati Moving to Norwood
A $1.2 million campaign will support the move and strategic growth.
In honor of International Women's Day on March 8th 2021, Dress for Success Cincinnati announces its new location and the launching of a $1.2 million TransformHER Campaign. 
After a thorough and thoughtful search, Dress for Success will move in June 2021 to 4623 Wesley Avenue in Norwood. The move comes as a result of a forced relocation from their downtown Cincinnati building which is being converted to residential units.
"While we were not eager to leave our current location and its favorable lease—especially during the pandemic," says Dress for Success Executive Director, Lisa Nolan, "our building was sold, and we had no choice." "But," she adds, "we are using this as an opportunity to think and plan strategically for our future." 
Dress for Success is renowned for providing interview attire to women returning to or entering the workforce. The organization's work also includes a wide variety of workforce development programs that offer a lifetime of career support to women in the community. 
The new location allows for headquarter offices, styling boutique, clothing donation center, and, earned-income venture, resale boutique, Portaluca, to co-locate on one floor—instead of being spread out on multiple floors as is the case in their old location. It also has meeting rooms large enough to host all of the organization's group programs on-site. "Having such a large space gives us the chance to provide even more seamless delivery of client services and pushed us to dream bigger for ourselves," says Nolan.   
To help raise funds for the relocation, Dress for Success embarked on a TransformHER Campaign—the first funding campaign in its 22-year history. The goal is to raise $1.2 million of which the organization has so far raised $650,000. These funds are needed to relocate the organization to its new home, further develop programs to support its clients and ensure sustainability for the future. 
The campaign includes three prongs:
Moving to a larger location that allows for cohesive programming and strategic growth

Setting up a

Fund for the Future

which can only be distributed at the Board of Directors' discretion for new opportunities, programs, and important growth

Building fundraising capacity by establishing a Major Gifts program and recruiting a development director
The three-pronged plan provides the foundation necessary to further help women out of poverty and achieve economic independence. 
"It was 2019 when we decided to launch a campaign to support the move, transform our organization and create more opportunities for women in our community to thrive," reflects Nolan. "When COVID-19 hit, we paused to reflect and evaluate whether this plan was still appropriate in the new context."

She explained that as they watched economic trends, Nolan and her team realized the campaign was needed now more than ever. A recent CNBC report shared that more than 2.3 million women left the workforce since February 2020. That brought women's labor participation rate to levels not seen since 1988, according to the National Women's Law Center. In December 2020 alone, women accounted for 100% of the jobs lost.

Millions of women are being pulled into poverty, forced into looking for work in an environment of tough competition, or both. The impact of poverty on women and their families can be long-lasting. Therefore, addressing all women's needs is central to improving the quality of life for women and her family, future generations, and the community. 
Take, for example, the story Nolan shared of one woman, Jeweleen Lycan, who first came to Dress for Success for an interview suit back in 2018. Lycan was living in a shelter at the time. Today, thanks to support from Dress for Success, she is working full-time in property management, and looking at her future with a career focus. She recently signed up for the mock interview to prepare for a real interview she had later that same day for a position with better pay and benefits. 
Lycan is still weighing her options to change jobs but shared that she wore the original interview outfit she got from Dress for Success which gave her confidence during the interview. Furthermore, she has been clean from substance use for five years, recently purchased her own car and hopes to pursue a long-term career in real estate and property management. She told the Times Gazette, "If I can do it, anyone can. My life has completely changed. It was an illusion. I had to be shown that."
Learn more about Ms. Lycan's story at: https://www.timesgazette.com/news/38262/lycan-there-is-hope. 
To learn more about the TransformHER campaign or to make a donation in support of the campaign, go to dfscincy.org/transformher.
Dress for Success Cincinnati Featured in Cincinnati Business Courier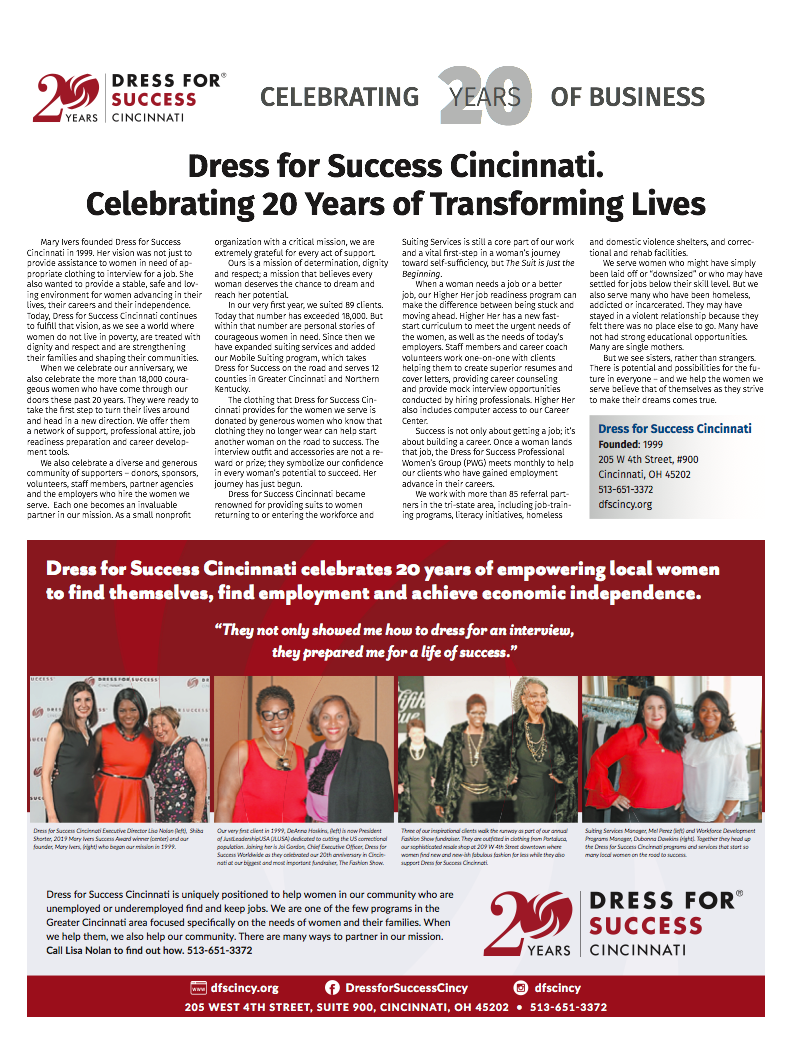 From the Cincinnati Business Courier, November 29, 2019
Mary Ivers founded Dress for Success Cincinnati in 1999. Her vision was not just to provide assistance to women in need of appropriate clothing to interview for a job. She also wanted to provide a stable, safe and loving environment for women advancing in their lives, their careers and their independence. Today, Dress for Success Cincinnati continues to fulfill that vision, as we see a world where women do not live in poverty, are treated with dignity and respect and are strengthening their families and shaping their communities.
When we celebrate our anniversary, we also celebrate the more than 18,000 courageous women who have come through our doors these past 20 years. They were ready to take the first step to turn their lives around and head in a new direction. We offer them a network of support, professional attire, job readiness preparation and career development tools.
We also celebrate a diverse and generous community of supporters – donors, sponsors, volunteers, staff members, partner agencies and the employers who hire the women we serve.  Each one becomes an invaluable partner in our mission. As a small nonprofit organization with a critical mission, we are extremely grateful for every act of support. 
Ours is a mission of determination, dignity and respect; a mission that believes every woman deserves the chance to dream and reach her potential.
In our very first year, we suited 89 clients. Today that number has exceeded 18,000. But within that number are personal stories of courageous women in need. Since then we have expanded suiting services and added our Mobile Suiting program, which takes Dress for Success on the road and serves 12 counties in Greater Cincinnati and Northern Kentucky. 
The clothing that Dress for Success Cincinnati provides for the women we serve is donated by generous women who know that clothing they no longer wear can help start another woman on the road to success. The interview outfit and accessories are not a reward or prize; they symbolize our confidence in every woman's potential to succeed. Her journey has just begun. 
Dress for Success Cincinnati became renowned for providing suits to women returning to or entering the workforce and Suiting Services is still a core part of our work and a vital first-step in a woman's journey toward self-sufficiency, but The Suit is Just the Beginning. 
When a woman needs a job or a better job, our Higher Her job readiness program can make the difference between being stuck and moving ahead. Higher Her has a new fast-start curriculum to meet the urgent needs of the women, as well as the needs of today's employers. Staff members and career coach volunteers work one-on-one with clients helping them to create superior resumes and cover letters, providing career counseling and provide mock interview opportunities conducted by hiring professionals. Higher Her also includes computer access to our Career Center. 
Success is not only about getting a job; it's about building a career. Once a woman lands that job, the Dress for Success Professional Women's Group (PWG) meets monthly to help our clients who have gained employment advance in their careers.
We work with more than 85 referral partners in the tri-state area, including job-training programs, literacy initiatives, homeless and domestic violence shelters, and correctional and rehab facilities. 
We serve women who might have simply been laid off or "downsized" or who may have settled for jobs below their skill level. But we also serve many who have been homeless, addicted or incarcerated. They may have stayed in a violent relationship because they felt there was no place else to go. Many have not had strong educational opportunities. Many are single mothers. 
But we see sisters, rather than strangers. There is potential and possibilities for the future in everyone – and we help the women we serve believe that of themselves as they strive to make their dreams come true.
Miss USA Cheslie Kryst Named Dress for Success Impact Ambassador 
Kryst's Role Will Support Dress for Success' Programming and Affiliates Across the Country 
NEW YORK, NY – Miss USA Cheslie Kryst has joined Dress for Success as their newest Impact Ambassador to support the organization's global mission and create awareness for programs that benefit the lives of women worldwide. A Charlotte native, Kryst is a longtime supporter of Dress for Success and has previously volunteered at the organization's Charlotte affiliate. As Miss USA, Kryst now volunteers at Dress for Success Manhattan where she helps job seekers select professional attire for job interviews and provides encouragement and support along their journey. 
"We are thrilled to have Cheslie Kryst as one of our Impact Ambassadors," said Joi Gordon, CEO of Dress for Success. "She embodies the characteristics that we value most and that our clients strive for – confidence, fearlessness and resilience," continued Gordon. 
Kryst's new role will support a variety of the professional and personal development programs Dress for Success offers clients, including interview preparation assistance, financial health education as well as leadership and civic responsibility training. In September, Kryst will kick-off a multi-city tour with Dress for Success affiliates across the country to support a variety of local events and programs. 
A civil litigation attorney, Kryst made history in May 2019 when she joined newly crowned Miss Teen USA and the reigning Miss America as the first three women of color to hold titles from the three prestigious U.S. pageants concurrently. Additionally, Kryst runs her own fashion blog "White Collar Glam," that focuses on work wear fashion for women and provides resources for confident apparel in the workplace. Kryst now joins a host of Dress for Success Impact Ambassadors, including fashion designer and reality television personality Michael Costello, model and nutrition entrepreneur Maye Musk, and designer, brand ambassador and international businesswoman Olivia Palermo, to advance the development tools that help women thrive in work and life. 
"My Dress for Success journey began with my work for the affiliate in my hometown—Charlotte, NC— where I had the opportunity to fundraise and organize clothing drives," says Kryst. "I am honored to grow my advocacy for the organization while serving as a National Impact Ambassador. I look forward to working with women across the country to help transform their lives through the important resources the organization provides." 
Dress for Success is a global not-for-profit organization dedicated to empowering women to achieve financial independence by providing a network of support, professional attire and the development tools to help them thrive in work and in life. The organization's programs center on workforce development, employment retention, financial literacy as well as leadership and civic responsibility. These programs rely on the generosity of corporate sponsors and a staff of more than 25,000 volunteers worldwide. 
To date, Dress for Success has helped more than one million women and operates in nearly 30 countries in more than 150 cities – from New Orleans, to Rome, to Katmandu. Sixty percent of Dress for Success clients live below the poverty line, 57 percent are working mothers and 50 percent some form of higher education. Within 90 days of entering Dress for Success' program, 75 percent of the organization's participants find jobs and 80 percent reduce debt after completing financial health education. 
"We believe that when a woman is helped, so are families, wider communities and as such, the global economy. More importantly, a woman's self-esteem and confidence are reestablished, having a residual effect on all and everyone she encounters," concluded Gordon. 
For more information on Miss USA and Chelsie Kryst, please visit missusa.com. 
Cincinnati Works and Dress for Success Cincinnati announce partnership
Cincinnati Works and Dress for Success Cincinnati are excited to announce a partnership that will enable both organizations to empower more women as the organizations collaborate on best practices in job-readiness training and coaching.
Both organizations serve disadvantaged women who are unemployed or underemployed. Dress for Success Cincinnati became famous for its interview-appropriate Suiting Program and grew to include training for both women returning to or entering the workforce. Cincinnati Works trains and coaches those living in poverty in job search, job retention and advancement on the job. Together, this partnership strengthens both organizations' continuum of services and benefits women who are looking to earn their way out of poverty.
"The two organizations have been partners in the fight against inequality for more than two decades, and they each bring something different to the table," said Calista Hargrove, Vice President of Programs at Cincinnati Works. "By coming together, we ensure that our clients get the best service available while our organizations remain focused on what we each do best."
"As Dress for Success Cincinnati celebrates its 20th Anniversary, we are pleased to join our strengths with those of Cincinnati Works in a partnership that shares a mission of empowerment, support and effective programs in a stable, safe and caring environment," said Lisa Nolan, Executive Director of Dress for Success Cincinnati.
Dress for Success Cincinnati will bring aspects of the highly effective and award-winning Cincinnati Works model to their clients in the DfSC training and coaching programs. The partnership will also allow Dress for Success Cincinnati clients access to additional supplementary services, including financial coaching, a behavioral health counselor, a legal advocate, and other resources to help them manage the barriers they may face to finding and keeping employment. Meanwhile, Cincinnati Works Members (clients) will have access to the full suite of services at Dress for Success, including their signature Suiting Program and their Professional Women's Group, which helps women who have gained employment advance in their careers. Both organizations will benefit from the network of volunteers at Dress for Success.
Dubonna Dawkins, who is currently a workforce coach at Cincinnati Works, will become Workforce Development Programs Manager at Dress for Success Cincinnati. Dawkins brings a wide range of skills and experiences to the role, including human resources management and consulting. "I was drawn to this position because I'll have the opportunity to empower women," Dawkins said. "I have worked with a lot of women over the years at various stages of their careers, and I have seen how important it is to address internal factors like self-esteem as well as external factors, and both Dress for Success and Cincinnati Works address these so well."