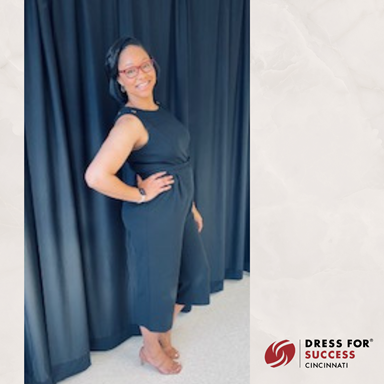 Clarissa describes her experience at Dress for Success as nothing short of amazing. With just two days left before starting her new job, disaster struck when all her clothes were stolen from the local laundry mat. Feeling hopeless, she searched for a solution. 
That's when she stumbled upon Dress for Success Cincinnati. Clarissa reached out to us, hoping we could offer some assistance. We promptly scheduled a styling appointment for Clarissa the very next day! 
She arrived at Dress for Success Cincinnati, filled with anticipation. The moment she stepped through the doors, Clarissa was greeted by a warm and supportive team of styling volunteers. Our styling team understood her predicament and were determined to help her overcome this setback. 
With the help of the dedicated staff and volunteers, she found stylish and professional outfits that fit her perfectly. As she tried them on, she couldn't help but feel a surge of confidence flowing through her. Dress for Success had not only provided her with clothes, but also with a renewed sense of self-assurance. 
Armed with her newfound confidence, she started her new job as an Administrative Assistant to HR and Receptionist for Urban League. Each day, she feels grateful for the opportunity to work in an environment that values work-life balance. She is eagerly anticipating her upcoming vacation with her son. 
As she reflected on her journey, she couldn't help but express her eternal gratitude to Dress for Success Cincinnati. Our StyleHER program had not only helped her start her new job with professional clothing, but also confidence!  
At Dress for Success Cincinnati, we believe women should not have to spend their first paycheck on clothing. Knowing that women sometimes must go through several rounds of interviews, we have recently started offering two interview outfits instead of one. And once a woman is offered a position, she can come back and pick out 10 more pieces to start her new job in!  
But Dress for Success Cincinnati goes beyond clothing. In addition to our StyleHER program, we offer a career development program, HigherHER, and a monthly networking meeting, EmpowerHER.  
Our HigherHER women's career development program helps unemployed and under-employed women gain professional skills, accelerate their job search and build confidence through the HigherHER curriculum and our partnership with Cincinnati Works in our Career Center. 
Our EmpowerHER program offers ongoing support to help women reach economic self-sufficiency and the goal of being able to give back to the community. EmpowerHER provides educational opportunities and a network that helps women in the workplace continue to develop skills and advance in their careers. We offer meetings and events including expert speakers and networking with professionals from a variety of industries and with other women who have made similar transitions into the workforce. Topics are centered around financial wellness, corporate culture, work-life balance, health and wellness and leadership and civic responsibility. 
If you or someone you know is interested in our StyleHER program, please contact Styling Services Manager, Kate Black at kblack@dfscincy.org.  
If you or someone you know is interested in our HigherHER or EmpowerHER program, please contact Programs Manager, Dr. Angela Rivers-Harper at ariversharper@dfsciny.org.  
Join us in our 20+ years of empowering women. Please consider making a donation or volunteering in the Style Studio. Your gift goes directly to helping women in the Greater Cincinnati and Northern Kentucky region on their way to achieving their dreams.