In 2020, Dress for Success Cincinnati celebrated its 20th Anniversary. To honor this exciting milestone, we shared 20 of the countless inspiring stories from the courageous women we serve and dedicated volunteers who help them on their journey.
Bonus Stories: 2020 Fashion Show Client Runway Models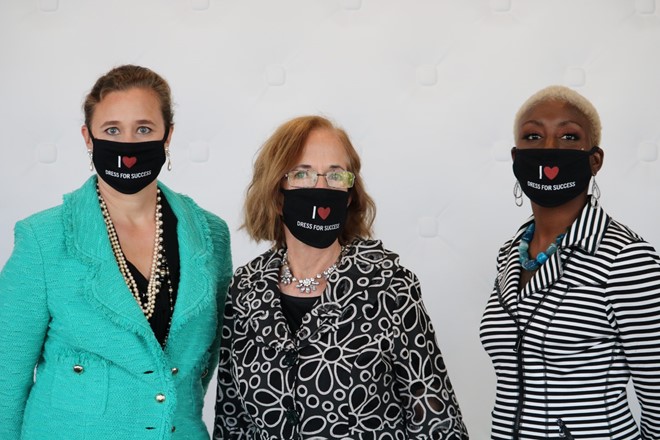 DfSC clients Cheryl, Judy, and Tanyqua at the 2020 Fashion Show
Cheryl O.
I'm Cheryl. I was married, had an education in electrical engineering from the University of Cincinnati and a beautiful baby girl. 
Then – I was divorced.  But since I had been a stay-at-home mom for several years with very little experience behind me in engineering I couldn't find a job in the field. 
I decided to go back to school for my master's degree and was accepted into UC's DAAP College in their community planning program. Right before the program began, I became pregnant with my second daughter, but I went on. After my daughter was born, I suffered from postpartum depression. I had no income and my savings were quickly dwindling. 
I found my way to Greater Cincinnati Behavioral Health for help with the depression. That program offered job finding services and career counseling too and they connected me with Dress for Success. 
The outfit my stylist helped me put together was what I wore to a job interview I had with SORTA -- and I was thrilled to be offered a job as a financial analyst! I was feeling better and had money coming in. I worked there for almost 2 years when my position was eliminated. 
I remembered that Dress for success offered help with resume writing and interviewing. That's what I needed to dust off my skills. I used their Career Center and worked with a career coach, Judy Hill from DJ Joseph, who helped me re-write my resume. I went to classes to help me develop my interviewing technique and went to several mock interview sessions. With the help I received from Dress for Success Cincinnati I landed a job making 50% more than what I had been making at SORTA. I now live with my daughters in Indianapolis and work for NSG, a global manufacturer as an engineer!
Judy H.
I'm Judy.  I'm a native Cincinnatian and have been a widow for many years. I don't have a high school diploma, but I've raised two grown daughters who make me proud every day. And I think they're proud of me.
I left high school at 16 to get a job, and I haven't stopped working since. 
At 18, I joined the Navy and married a sailor who was a good father, but not such a good husband and we divorced. I worked as a bar tender in a lot of restaurants and bars in my day – including the Carousel in Roselawn when it was one of the nicest, most popular places in town. 
When I was about 40. I quit the bar work scene. I'm a recovering alcoholic and this is my 37th year of sobriety!
When you wonder what can people do without a college education, these are some of what I've done to support myself and my family. I got training to work in a machine shop and worked at G.E. Aviation for 7 ½ years. I went to training school and worked driving bulldozers and earth moving equipment. I worked at a sawmill. 
I have done housekeeping and custodial for some great companies – Cincinnati Public Schools, University Hospital and the Gramercy downtown. I've also cleaned at apartment houses. At one place, I even bought my own shovel for some outdoor cleaning up that needed doing.
Anytime I was out of work and looking for a new job, I came to Dress for Success to get outfitted and encouraged for an interview. I knew I could find work. I was dependable and hard working and willing to be trained. 
Most recently, I have been working with Vantage, a non-profit for seniors. It's a great place, and they are paying their employees during the pandemic, even me, while I am staying safe mostly in the house. Thank you, Dress for Success.
Tanyqua O.
I'm Tanyqua. I've been through a lot on my way to this runway.
Growing up, I escaped a toxic family life. I fled domestic violence with my three children. 
And for years, I've fought a legal system that put every possible barrier in my way to get justice for my abuse as a child by a minister of the church.
That's a lot of baggage to carry around.  Putting my kids in the car and leaving was a first step in my healing. 
Then, finding a home for us in a YWCA battered women's shelter was a blessing in two ways. First, we were safe at last – and second, the Y referred me to Dress for Success Cincinnati.  The clothes and encouragement renewed my spirit.  Besides the free clothing that they gave me, I bought the very first suit I had ever owned at Portaluca for $3.00. And the Career Center computers and Internet gave me my voice and the world – not only to search for jobs and create a, but also to learn what I needed to get justice for the childhood abuse I had experienced.
With my children safe and seeing a path forward for me, a flood of emotions in me came rushing out.  My ongoing healing process became poetry. Poetry for healing -- for moving ahead -- for overcoming rage and sadness – for finding peace.  
I thought if poetry was a force restoring me, perhaps it could act as a curriculum for others, too. And that's what has happened. 
From my own personal struggles, I actually made lesson sheets so other people who were hurting might find themselves.  I've taken my program into women's prisons, into high schools and for youth who have become involved in the justice system. 
Now I am striving and doing great. Even in this pandemic, I have a job at Lowe's on their Merchandising Team, and I still provide Personal Training for clients.
People who know me say I am fierce and relentless. And now I know I can move any mountain! Thank you Dress for Success!
Story #20: Doreen W.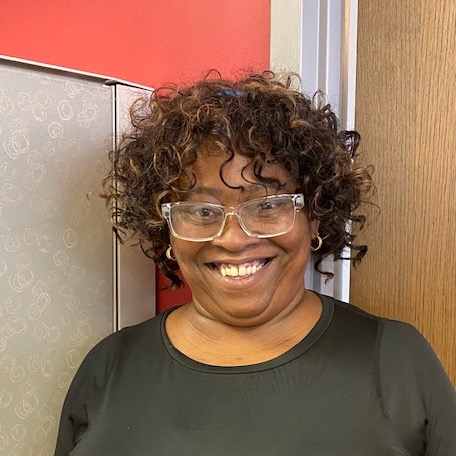 After a tough journey that included living in a shelter, job loss, facing eviction and trouble with the law in her youth, we're so happy to tell you Doreen is now on the right track!
We first met Doreen when she came to us for an interview outfit. Her attempts at employment had been stymied by her background and her record. Discouraged, she still found the courage to begin again.
Doreen completed HigherHER, our career readiness fast-track program that includes a mock interview session. That 4-week program helped Doreen get ready, create a resume, be able to explain her situation, present herself professionally – and built her confidence! Through our partnership with Cincinnati Works, Doreen also has worked one-on-one with a financial coach, and a legal advisor helped to get her long-ago record expunged.
Doreen accepted an internship offer from Portaluca, Dress for Success Cincinnati's sophisticated resale fashion boutique downtown, learning customer service skills and more (and upping her wardrobe at bargain prices!)
Doreen has attended our Professional Women's Group for employed women. The expert advice and peer camaraderie of PWG have furthered her ability and determination to succeed. 
Doreen started a career at Frisch's, putting her customer skills to work, and she knows her dreams are possible once more.
We're so proud of you, Doreen!
UPDATE: We are sad to share that Doreen has lost her job at Frisch's due to the coronavirus crisis, but we are already offering her support through remote career coaching and other virtual service offerings as she looks for her next job. Many of our clients need us now more than ever, and even though our doors are closed, we are always here for them.
Story #19: Regan A.
A reflection on how Dress for Success positively impacted my life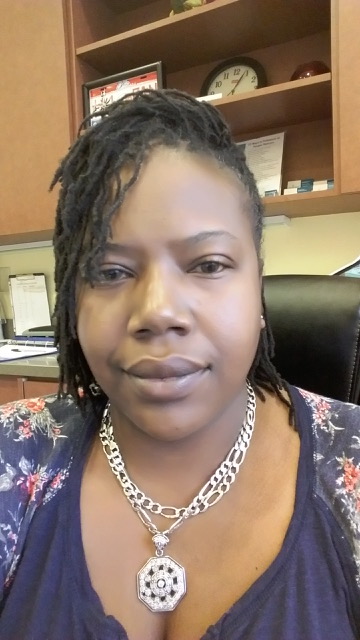 After I graduated from Lincoln College of Technology, I stayed in contact with the college's Career Resource Center. Specifically, my contact was Miss Candace, and she gave me leads on a few jobs. Although these leads did not pan out, I continued my job search. When I reached out to Miss Candace again, she referred me to Dress for Success to obtain appropriate clothes for interviewing. Dress for Success supplied me with my first interview outfit (a black pantsuit, a white shirt, a purse, and a pair of shoes that I still wear).  As a result of my preparation for the interview and the professional attire supplied by Dress for Success, I landed my first job out of college! 
Not only did Dress for Success provide me with a successful interview outfit, but also, once I landed the job, the organization provided me with five work outfits—enough clothes to get me through an entire work week. 
This lift-up helped to transform my life, and I am forever grateful. It's amazing how such a kind gesture can have such a profound impact.
It's been 8 years since Dress for Success helped me.  Since that time, I have been consistently employed in the social services field. Recently, I was promoted to a middle-management position. A promotion of which I am very proud.
Looking back, I know that when I was in need, Dress for Success was there for me. Now, every day at work, I express my gratitude to Dress for Success by providing security, dignity, and community to formerly homeless individuals with severe and persistent mental illness. Therefore, Dress for Success donors and friends need to know that their impact resonates out into the larger community, impacting countless lives.
Story #18: Linda V.
Lessons in resilience from a dedicated volunteer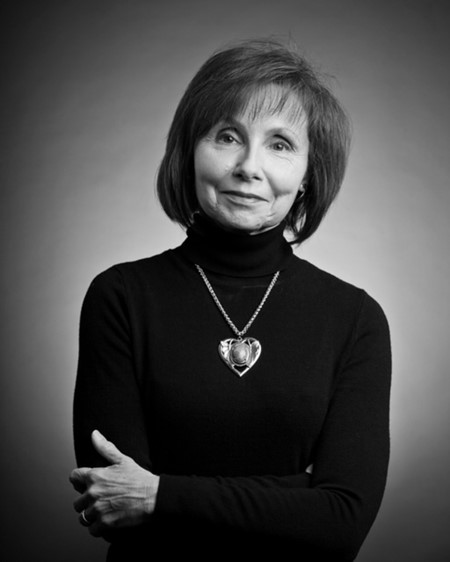 Tuesday is the happiest morning of the week for me. I really look forward to my time as a volunteer stylist in the Suiting boutique. But in my enthusiasm, it's easy to forget that our clients come with a whole host of life challenges. A morning that seems like fun to me (Clothes! Purses! Friendly faces!) may feel intimidating, embarrassing, or even frightening for someone who's already on a difficult journey. 
Recently I worked with a young woman who was clearly uncomfortable to be at DFS. Her handshake was firm but her chin dipped to her chest, and as we went through the racks of clothing, each item I suggested that she try on met with a brief, nervous,  "Yes, ma'am." 
She was agreeable, but hardly enthusiastic, and that was making it difficult for me to figure out what kind of outfit she'd really like. So I tried a different tack. "Would you prefer pants to a skirt or a dress?" I asked. "Is there a style you really like, or one you want to avoid?"
"I just need something with long sleeves," she said. "Something to cover my arms."
"Oh, you have tattoos!" I gushed brightly, relieved that here was a topic we could chat about. Maybe if we talked about her body art that would break the ice, help her relax, lighten the mood and help her get into the spirit of the day. 
"No, not tattoos," she said, taking a deep breath and meeting my gaze. "Scars."
I felt horrible. In my eagerness to be cheerful I had forced her to explain something to me that was none of my business. How could I have been so thoughtless?
When we went to the shoe racks I sat next to her on a bench and I discreetly apologized for asking about her arms. 
"I've been clean and sober for a year," she said softly. "It has been good. But it has been really hard, too."
There was nothing self-pitying in the way she said "really hard"; nothing self-aggrandizing either. It was a simple statement about what she faced each day. It reminded me of the complicated lives our clients lead, and of the silent battles that so many of them may be fighting. 
"I'm glad you're here," I said. 
We sat for a while longer, Zen-like, just staring at the shoes. Then she left with a great interview outfit: trim gray suit, white blouse, snappy black shoulder bag and sleek black pumps. And I left with a lesson in resilience.
Story #17: Tanisha H.
Tanisha is a young woman on the move!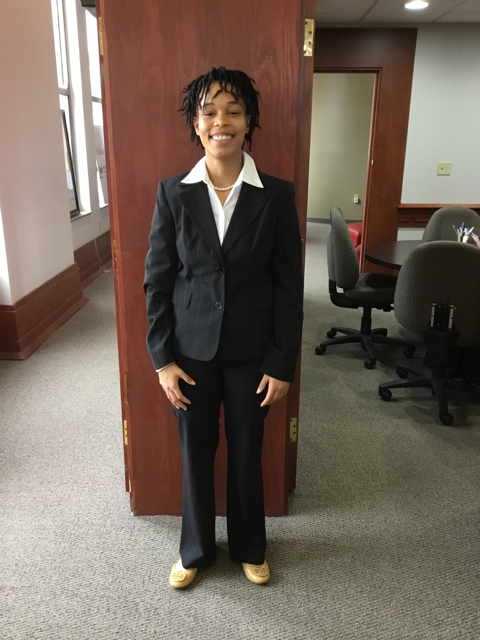 Tanisha came to us having just earned her certificate in welding, a highly specialized skill much in demand, and plans to continue her work on her associate degree next. She needed clothes for a very special event and future job interviews. 
How was her first experience with Dress for Success Cincinnati to be fitted with a professional outfit that matched her preferences and personality?
"My personal shopper listened to me, she didn't pressure me. I would rate my personal shopper a 100 on a scale of 1-10. I usually don't dress girly, but I'm happy with everything. She was the perfect stylist! After being suited, I felt beautiful and confident. I know I'm going to look good for my scholarship dinner."
We know you will, too, Tanisha. You're on the road to success and all of us at Dress for Success Cincinnati wish you all the best.
Story #16: Dorene H.
Dress for Success is where she stopped being afraid—and began dreaming again.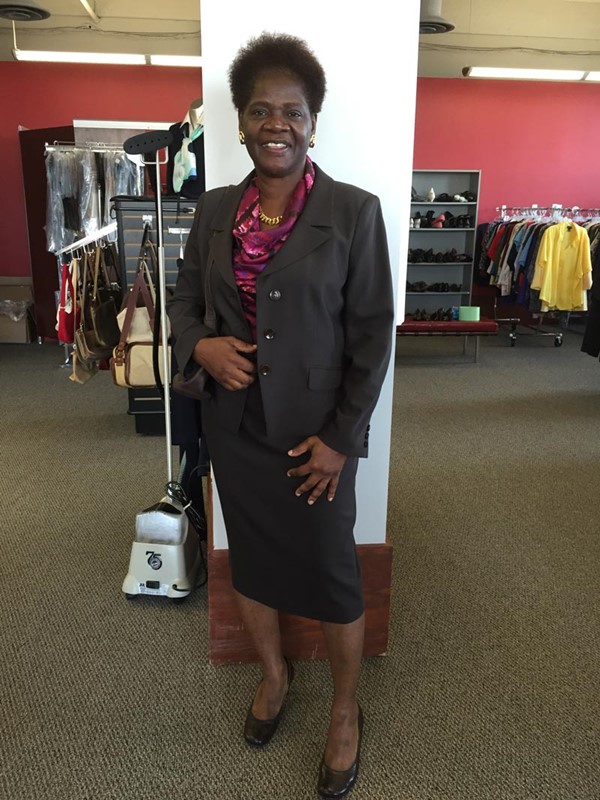 Dorene's life changed when she and her husband of 27 years relocated to Cincinnati to continue serving in ministry to people challenged from incarceration and a Women's Discipleship ministry. 
They thought the change was for the good, but Dorene's husband became ill and was hospitalized multiple times. Dorene needed work and she needed it badly. After being a motivational speaker, an alcohol and drug counselor and a minister, she thought the market place would embrace her as an employee.  
But everywhere she applied, she was told to change her resume and try to "re-invent" herself.  Dorene says what they meant was "you are outdated, change your antiquated style." But how?
She did not qualify for unemployment. So it was imperative that the "re-inventing" begin.  
Dorene still remembers how awful it felt the first time they had to apply for public assistance. How painful to give up their car because she couldn't afford maintenance, insurance or gas. 
One day while riding the bus a woman told Dorene about the Urban League, where she was able to graduate from a six-week Urban League job program. And best of all says Dorene, that's where she learned about Dress for Success Cincinnati.
The Urban League referred Dorene to us to "shop at Dress for Success" and be outfitted for a job search. 
No more antiquated style for Dorene!  She says she thanks Dress for Success and her other resources for her turn around.  "There is nothing like earning an honest living."
Dorene is now a widow, but she is still surrounded by care and support and a community at Dress for Success. Dorene says Dress for Success is where she stopped being afraid—and began dreaming again. She met women at Dress for Success who shared their stories and were accepted, not made to feel ashamed. 
Dorene currently works at Barclays Bank call center in Hamilton, OH. She also attends activities and educational meetings as part of our Professional Women's Group, including participating as a model in our gala Fashion Show fundraiser several years ago and joining in the energy and excitement of our race team in the annual Queen Bee race. Dorene says, "It is as though I began breathing again. I truly believe Dress for Success Cincinnati was made available to me so I could thrive in relationships, in the marketplace and in community.
Story #15: Anita M.
"I will forever be connected to this life-changing organization."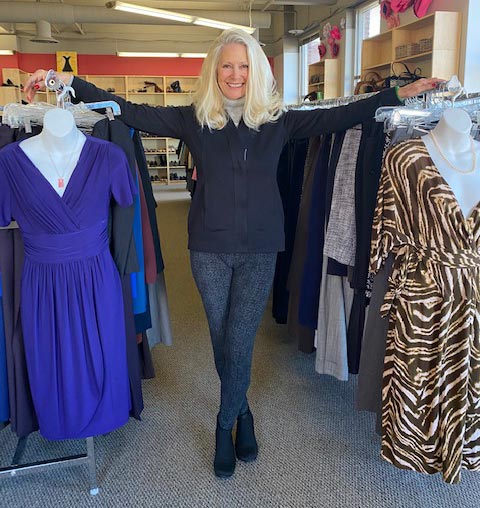 In 2009 I had the life-changing opportunity of observing a client suiting session at Dress for Success Cincinnati.  I had been on a tour of Dress for Success and was paired with a suiting volunteer who had been here since the doors opened in 1999.  Ruth was retired from Saks and was incredibly stylish!  She was also patient, kind and adept in relating to the wide variety of clients who came to Dress for Success, hoping to turn their lives around. Some were visibly very emotionally fragile. Carrie, the young woman assigned to Ruth that day, was one of the visibly fragile. 
This truly lovely young woman was so wounded, she could not make eye contact with anyone. She shyly answered Ruth's questions about her favorite colors, her size and preference of skirts, pants or dresses. Ruth spoke softly and with compassion. Ruth treated her with such loving care it was palpable. 
Ruth very gently encouraged Carrie to participate in her suiting experience by making her own choices. Ruth did not expect her to just accept Ruth's choices. By the time Carrie was suited and ready to see herself in the mirror outside the dressing room, she was standing a little taller, but still not making eye contact.  But seeing herself in the mirror the first time changed her. Ruth spoke words of encouragement and Carrie smiled for the first time—then looked around and, still smiling, made eye contact with me and then with others standing nearby. I will never forget that moment.  Carrie came to us a beautiful woman bruised by life's circumstances and left our suiting department with a smile and a renewed spirit that glowed as she found the confidence to make eye contact. That is the power of compassion.  
That first experience witnessing the suiting of Carrie captured my heart, and I committed myself to this amazing organization. I joined the Board of Directors the following year, 2010.  This year, as I enjoy my final year on the board, I have come full circle. I am again a grateful, devoted volunteer in Suiting, working with a wide variety of loving, caring compassionate women and awe-inspiring, courageous clients. I will forever be connected to this life-changing organization that strives to make that first contact with Dress for Success a transforming experience.
Story #14: Christina S.
A relocation, a job she loves and plans for the future. Christina is rocking it!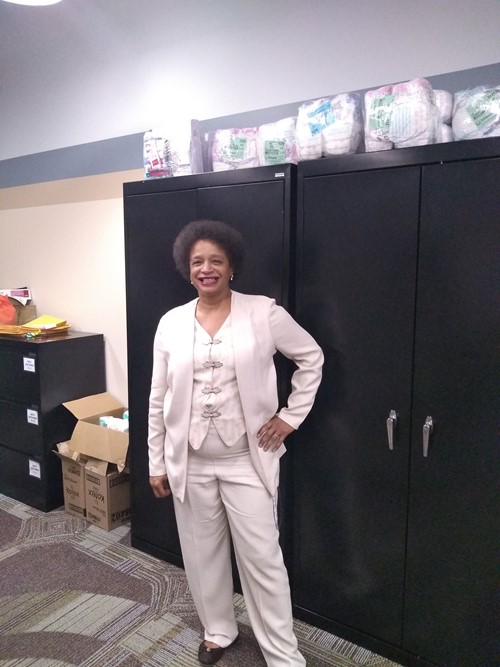 When Christina relocated to Cincinnati with her ailing mother, looking for a job was high on her to-do list. And professional clothing was, too.
That's where we came in.
Christina came to Dress for Success Cincinnati for interview and employment apparel. She knew one-on-one career coaching, job readiness programs and computer access through our Career Center were available to her if she needed them.
Today, Christina is a case manager at Urban League of Greater Southwestern Cincinnati, helping others succeed and having only good things to say about her experience with Dress for Success Cincinnati. "They didn't even know me, but they showed such encouragement and compassion to me."  She even found a $20 bill in the pocket of one piece of her new clothing! "I really needed it then. It was like a sign," she says.
Christina is committed to the goals and mission of Urban League and wants to advance her career.
After a year and a half on the job, Christina is now planning to continue her upward career path helping others by returning to college for a graduate degree (or two!). We're proud of Christina and happy for her and the people she serves.
Success is all about getting started, then continuing to grow.  We've helped more than 18,000 local women do just that in our 20 years!
Story #13: Dawn L.
Her life changed direction after Dress for Success Cincinnati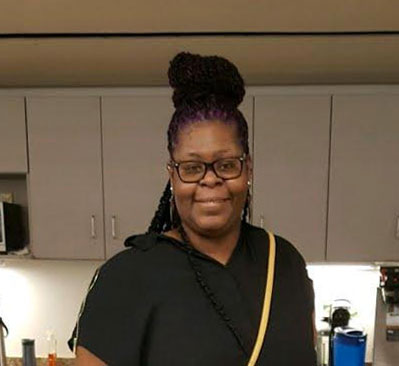 When Dawn came to Dress for Success Cincinnati in 1999, she had made some serious mistakes in her life. But once she was referred to Dress for Success, she began to hope that she could turn her life around.  The people she met through Dress for Success, including the staff and volunteers, helped her change the direction of her life.
After Dawn received her interview suit and got a job, she joined the Professional Women's Group (PWG).  She thought when she came to her first PWG seminar it would be a one-time thing, but she met a group of women who dealt with the same issues and problems she faced in her own life.  Dawn says the seminars opened her eyes and her heart to the learning opportunities that were available to her. For Dawn, PWG became a lifetime opportunity. For many years she has taken a leading role in our annual PWG Giving Thanks Brunch.  She was even selected to serve as an Ambassador for Dress for Success Cincinnati, representing the organization at local events and speaking to groups about her personal journey with Dress for Success.
The lessons Dawn learned at Dress for Success Cincinnati helped her stay one step ahead in life. Our Career Center allowed her to work one-on-one with a volunteer Career Coach who helped her update her resume, practice interviewing, and move ahead in her career. 
Dawn said Dress for Success helped her realize her dreams.  "With Dress for Success Cincinnati and God on my side I know I can achieve anything. I know I am a better person because of Dress for Success Cincinnati and the Professional Women's Group."
Story #12: Chrishanda D.
Chrishanda is the kind of determined woman we serve!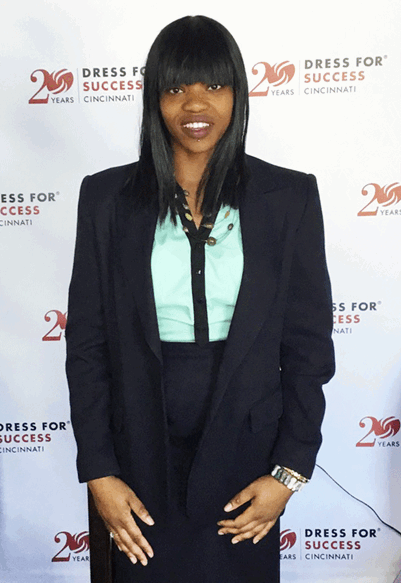 Chrishanda came to us for her interview suit in May.  She walked from her home in Avondale to our offices in downtown Cincinnati, and then she walked back home again with her new outfit!
That interview suit and the encouragement she received from our staff and volunteers helped give her the confidence to match her determination: Chrishanda is now employed! Not only that, every day she walks from Avondale across the bridge to her job in Northern Kentucky.
Is it any wonder we're so proud of Chrishanda and her fierce attitude?
Each day we see women just as dedicated to their futures as Chrishanda, and we're honored to be part of their journey to financial independence.
Story #11: Tracy S.
What do you do when you've been downsized after 21 years of working?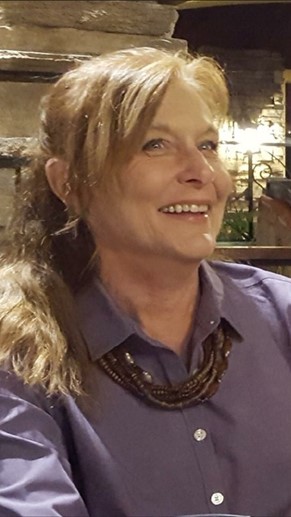 That's what happened to Tracy. And here's what she did.
After being downsized, for several years Tracy "settled" for jobs beneath her abilities.  Finally, she'd had enough of being underemployed. Through our new partnership with Cincinnati Works, Tracy connected with Dress for Success Cincinnati, and received an interview suit to look for a new job she deserved. 
She's now happily employed by Christ Hospital and has her eye on joining our Professional Women's Group. There, she can learn from her peers and expert speakers who discuss career advancement topics at each meeting. She also participated in our Mock Interview program to get feedback from professionals. 
The network of support and camaraderie had given Tracy new ways to market herself to potential employers and had reduced Tracy's anxieties about being "out there" again.
Tracy says thanks to Dress for Success Cincinnati, and she wants other women to value themselves and their skills.
Story #10: Letitia B.
Letitia came to us for interview clothing. And she still has the shoes to prove it!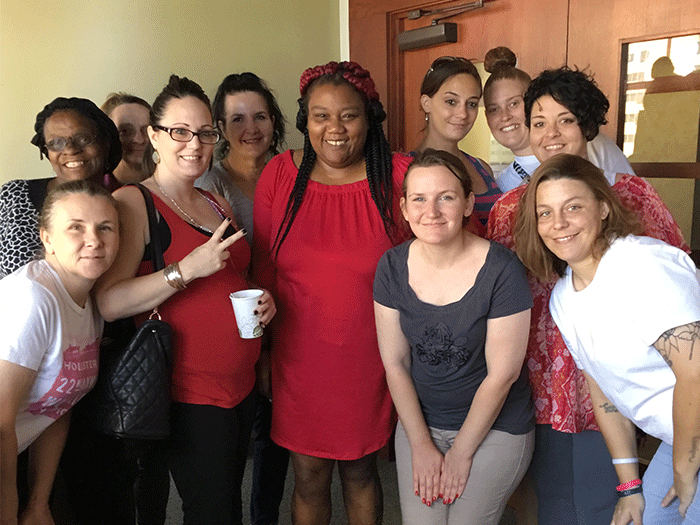 See that beautiful, happy woman in red in the center of the group photo? She's a former client of Dress for Success Cincinnati, and now she's a success as the Employment Coordinator at Volunteers of America! As part of her job, she brings women from VOA to Dress for Success for their interview suiting, including the enthusiastic women you see here.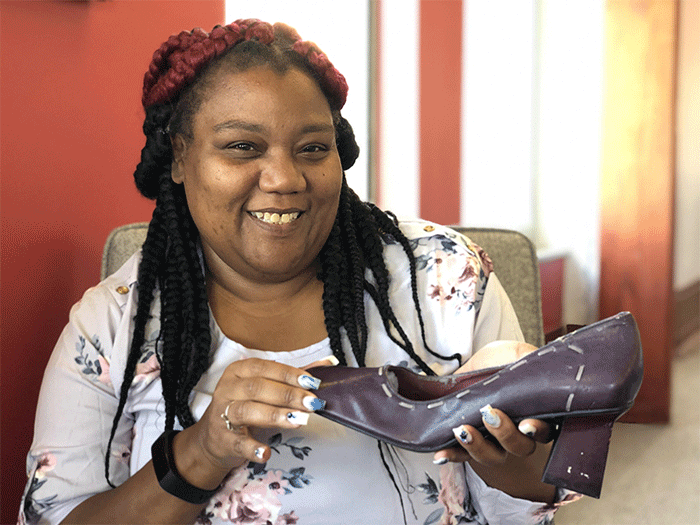 The shoes she's holding are the very shoes we provided Letitia when she first came here for her interview suit in 2010. We think they are a great symbol of the first-step service we offer our clients as part of our Suiting Program.
Story #9: Dr. Zaria Davis
Dress for Success Cincinnati helped Zaria transform her life.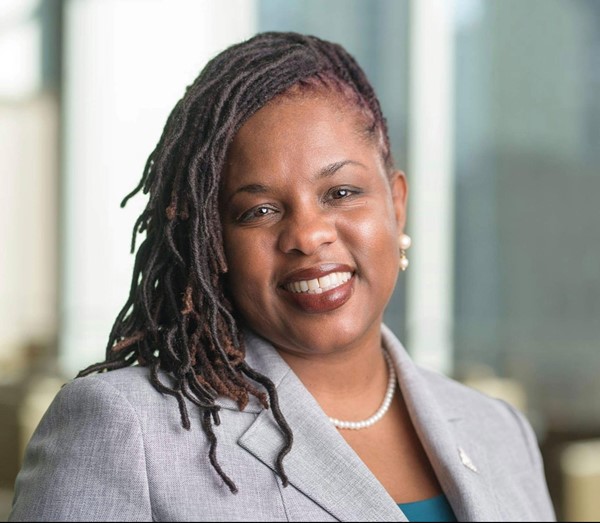 Dr. Zaria Davis was at her lowest point.
Zaria lost a thriving business, faced a life-threatening medical emergency herself and then lost her mother to the same condition, was tried for billing irregularities at her business and sent to a federal prison camp having to leave behind her teenage daughter.
But Davis discovered she could use her overwhelming adversities for a purpose. Her downfall, shame, and loneliness helped her grow as a person. They helped her acknowledge her faults, understand the importance of second chances, value her loved ones, and become healthy—both physically and spiritually. During that year away, she also found herself with help from God. 
When she arrived back home, Davis was a new woman, but she had lost a year of her teen's life, her home, and all of her money. That's when she found Dress for Success, which, she says, transformed her life. She received a warm welcome, non-judgmental support, and an interview outfit for her job search.
Davis joined Dress for Success Cincinnati's Professional Women's Group for women who have found a job and want to advance their careers.  She participated in all the support and expert speaker sessions and even serves as an ambassador doing public speaking and representing Dress for Success in the community.
The organization invited Davis to a re-entry panel for women re-entering life after incarceration. That experience inspired her to further share her story and provided motivation to explore a new career in criminal justice reform. 
Davis started her own nonprofit organization to help women with their reentry journey. She is currently the owner of New Direction Coaching & Consulting, LLC, contracting as policy specialist with operation restoration, was recently hired as senior associate with Pretrial Justice Institute, and is now a member of 2019 cohort of the JustLeadershipUSA Leading with Conviction Program.
Perhaps even more importantly, Davis is enjoying life again with her child. She knows she is worthy of success, and it is reflected in her local, state, and national involvement. 
Davis says she has been fortunate to have Dress for Success open doors and dreams for her and she now views her time away as preparation instead of a punishment. She believes that she is living her purpose, which is to serve others and be a voice of change.
Dress for Success Cincinnati thinks so highly of Zaria and the work she is doing for other women in our community that she was recently elected to the Dress for Success Board of Directors!
Story #8: Kelly Hollatz, volunteer & supporter
Kelly does everything she can to help women get prepared and empowered for jobs through Dress for Success Cincinnati. And then she hires them!

Kelly Hollatz, owner and president of First Star Safety, one of Greater Cincinnati's top construction and traffic safety supply firms, knows that women who graduate from the job readiness programs at Dress for Success Cincinnati are ready for employment. 
Kelly puts her hiring practices where her Dress for Success Cincinnati heart is, having hired a number of women who have gone through our job readiness programs.
"We're a small business," says Kelly. "We average 24 team members at any given time and I think First Star Safety has been a good "home" for the ladies that we have hired from Dress for Success. It's amazing to see how the clients that I have hired have developed over time, not only as team members, but also as women.  It's really been a pleasure and blessing to be able to offer a welcoming next step for these clients.  I would strongly suggest other local companies consider the clients at DfSC for future hiring needs—they have unlimited potential."
Kelly currently serves on the Board of Directors for Dress for Success Cincinnati, was a co-chair of our 2018 Fashion Show, our biggest fundraiser event of the year, and has given her time and talent at Dress for Success Cincinnati as a volunteer and in many other ways.
Kelly says that not every woman is ready for the rigors of her profession, but those who are have found confidence at Dress for Success have learned employment skills and developed determination and workplace attitudes that make them good hires.
"I have found that many on the clients from Dress for Success Cincinnati are ready to learn and eager to get to work.  They are more than excited and genuinely appreciative for an opportunity. That's what many of our clients need -- they simply need an opportunity. I have not been disappointed," Kelly says.
Huge thanks to Kelly and First Star Safety and to all the other local employers who know our Dress For Success programs (and clients) work!
Story #7: Christine, 
Fashion Show model
Claiming my time to shine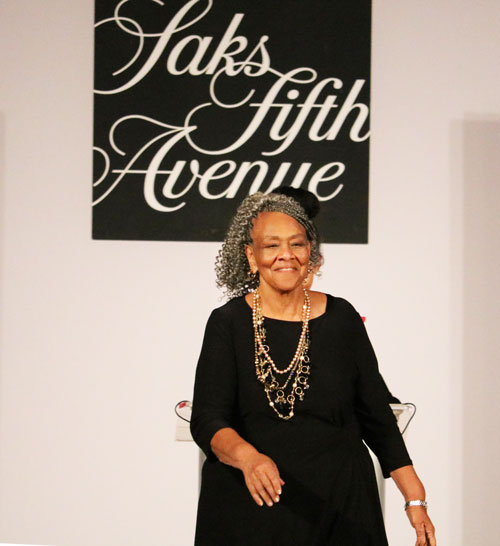 I'm Christine.  I'm 72 years old – I'm a mother, a grandmother and a great grandmother. 
I dropped out of high school when I became pregnant in the '60s.  It was hard and as my family grew, it got harder. But I was determined to be a role model for my children. They learned that whatever your circumstances, you don't give up.
I've always has some kind of job. I had to. At one time, I was in Housekeeping in University Hospital. Part of my job was to make sure packs of sterilized equipment were ready in the Operating Room. Once I noticed some devices had not been assembled properly by the night shift. So I reassembled them correctly. My supervisor noticed, and right there created a new job and title for me:  Operating Room Tech. That was a turning point— being recognized for my work and initiative. It flipped a switch and gave me encouragement! And other promotions provided healthcare benefits so I could finally get my much-needed back surgery.
Being a single mother without an education is not easy. But everybody has their own story—and their own hardships—you can't dwell on it. My kids are grown, good and productive and I'm so proud of them all.
For 50 years, I tried many times to get that high school degree, taking a class here and there when I could, and getting closer and closer.
And I finally made it!  Ladies and gentlemen, you are looking at a high school graduate as of May 22nd THIS YEAR.
Now I'm looking for a job. Age is just a number. I earned my Certification as a Customer Service Representative in an Urban League training program and they also referred me to Dress for Success Cincinnati. Their suiting program was my first step. The past is past, and I'm getting ready for the future with Dress for Success. 
Yes, I'm 72, I've earned a high school diploma—and now it's my time!
Story #6: Markita, Fashion Show model
Overcoming mental health struggles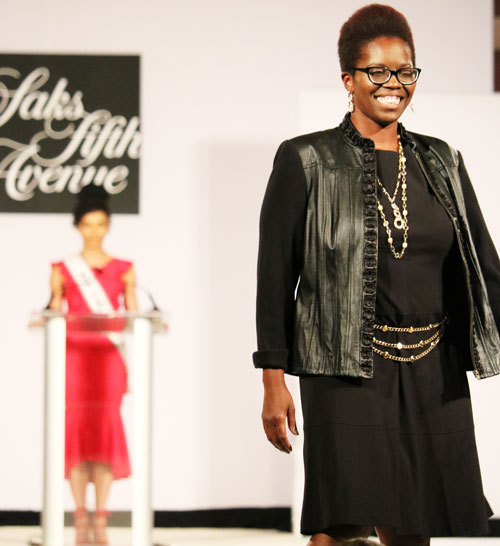 I'm Markita.
I was suicidal and in therapy at 16. I was diagnosed with agoraphobia in Navy Boot Camp, had panic attacks that were a danger to myself and others, and I have learned in years of therapy not to act on what the voices in my head are saying.
I've been unemployed and homeless, and I self-medicated that loss by going through a fifth of liquor a day—starting before breakfast. 
Rehab saved me. 
I didn't come from a terrible background. My parents both worked and I had a Nanny.  But I had to turn down a partial college scholarship because my parents wouldn't sign for my loans. My artistic dreams faded and I went to court reporting school. I've also worked for UPS and with the Downtown Cincinnati Ambassadors who help visitors and keep the sidewalks clean and safe. But I lost that job two years ago and I couldn't find another one because I was struggling with severe mental health issues.
I had to go on food stamps through Hamilton County Job and Family Services. They referred me to Dress for Success.  
I was very nervous walking through the door. But I felt immediately at home. The staff and volunteers greeted my warmly and treated me like a sister, rather than a broken person. That was another step forward to becoming myself again. And that's why I'm happy to be here.
I have my daughter back with me. I have a job with Over the Rhine Community Housing. I'm on the Board of Tender Mercies. I've joined the Dress for Success Professional Women's Group to help me continue and advance in my career.  
And my artistic energy that was buried for so many years is back—and I am working on a graphic novel.
Thank you, mental health care workers, and thank you Dress for Success Cincinnati.
Story #5: Wanda, 
Fashion Show model
Rising up from the lowest low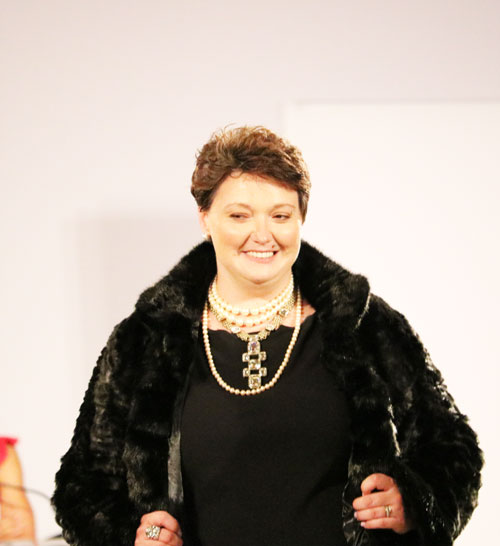 I'm Wanda.  I've been so low, I thought I could never get up.
I come from a family of abuse—physical, emotional—and for three years, starting when I was 10—sexual abuse. My parents divorced and there was little support. 
I hated my life, and by 9 years old, I was drinking and smoking dope. 
I still made good grades trying to impress my mom. But the good grades ended when I was 16; that's when I started using meth.
By 22, I was trafficking and in a terrible marriage—we were an "addiction couple," together only for the drugs. One day in a drug stupor and hallucinating, I beat my husband with a baseball bat. I ran. I dodged the cops. I lived on the streets. And finally woke up in a run down house with no electricity, no phone, and trying to find a vein to inject myself.  I said a two-word prayer: "Help me."
I was caught and arrested. That was the beginning of the answer to my prayer. In the back of the cruiser, something told me, "Give in." I believe it was God.
I had nothing. I had no self-respect and no morals. I was a "gutter junkie" —I lied, I cheated, I conned, I was a thief—no values except the next hit.
It was actually jail that helped me heal enough to change. At least I knew where my next meal was coming from, and had consistency.
I joined a 12-Step program there and I was paroled to Brighton Recovery Center, where I smiled my first real smile in years.  I began to care about other people and learned to love myself.
One day I thought, "Oh my god, I'm doing this!"
I first went to Dress for Success Cincinnati on my 2nd Anniversary of "clean and sober."  They made me feel welcome and like a valuable human being.  The clothing and pampering and the people all made me feel beautiful.
Today I'm a Peer Support Specialist at the Recovery Center. I help other women see that recovery is something worth having. One thing I do is bring other women to Dress for Success so they can feel worthwhile, too. 
It feels good to be able to give back.
Story #4: Bonnie & Sandy, clients
Dress for Success Friendship Leads to Cross Country Adventure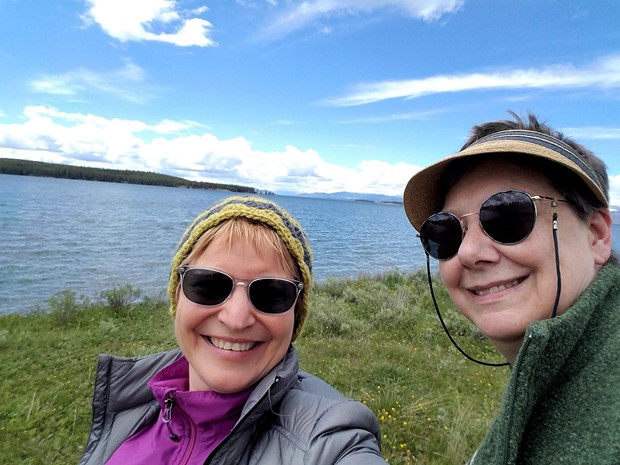 Sandy came to DFSC in 2009. She was under-employed and looking for support in finding employment that would offer better sustainability. She joined the Going Places Network (GPN) and eventually the Professional Womens Group (PWG). Sandy says she was hoping to find a strong community of friends.  She did that and more, eventually starting her own home healthcare business and winning an international Dress for Success Worldwide award for a community service program she created, executed and documented on video.
Bonnie joined GPN in 2012 and PWG in 2013.  Bonnie went from client to employment taking advantage of our programs and now she is giving back as a volunteer. Recovering from multiple injuries she suffered in an automobile collision, Bonnie came to us needing help finding a job and finding herself. Participating in our job readiness and development programs helped her find herself and a BFF! Now she comes to us  when we need help, acting as a Dress for Success Ambassador and providing professional photography that helps document what we do to carry out our mission.
She met Sandy at PWG in 2013. The two began chatting casually at PWG events, and after discovering they had a lot in common—Bonnie is a photographer and Sandy a videographer—they began seeking one another out and sitting together at the monthly events.   
The bond between the two really deepened when they attended the 2016 Dress for Success Worldwide Success Summit in Chicago. The Success Summit is by invitation and is open to women in PWG who are on their way to becoming leaders and catalysts for change in their communities.  Each participant is expected to complete a Community Action Project (CAP) aimed at identifying a social need in their community, then utilizing local resources to bring awareness to their chosen issue. Only one client per affiliate is invited each year. Sandy had attended Success Summit the year before but had been invited back to receive an award from DFS Worldwide for her CAP. Bonnie was there to kick off her CAP.
They flew to Chicago together, and Bonnie says they talked about anything and everything on the trip out, from religion to politics to whether aliens existed. They had a wonderful time at the seminar, and on the trip home, they were laughing so much people on the plane probably mistakenly thought they had been drinking. By the time they arrived back in Cincinnati, each woman knew they had a new close friend for life.   
Fast forward to 2017. For years, Bonnie had dreamed of visiting Yellowstone National Park. She was ready to begin planning a trip but couldn't find anyone interested in making the three-day cross-country drive. Sandy, who years before had visited the park annually to shoot video with her then husband was eager to make the trip but felt she couldn't afford it. Bonnie issued a challenge: "You have a year to save up for this. If you really want to go, you'll find a way." 
Sandy accepted her friend's challenge, and the two spent the next 12 months planning and saving for their adventure. Because Sandy had visited Yellowstone so many times (and loves planning the logistics of a trip), she took the lead on scoping out itineraries and lodging options. The two met weekly at Bonnie's apartment to make their plans.
Both describe the trip as magical. "Everything went right, and we got lucky several times," says Bonnie. "It all fell into place the way we had dreamed about it.  I really wanted to see a buffalo, and one day we were driving and ran into a group of motorcyclists moving a large herd down the road! Sandy was eager to see a moose as she had many times before, but we were having no luck. One day, we pulled over  shoot some photos of flowers, and off in the distance was a lone moose! It was crazy."   
Reflecting on the trip, both women say they got much more out of it than just a vacation. "Because of Sandy, I got to see parts of Yellowstone I never would have. I also began photographing nature on the trip which is totally new for me." 
For Sandy, the trip re-awakened her desire to travel. She says, "Because of Bonnie, I'm traveling again.  I really thought traveling was behind me." Next up for Sandy is a trip to Australia. Maybe Bonnie will go, too!
Dress for Success Cincinnati offers a network of support, professional attire and development tools to help women thrive in work and in life.  We also offer networking opportunities that might just lead to the chance to find forever friends.
Story #3: Rose Aleman, client
When you're down, Dress for Success lifts you up.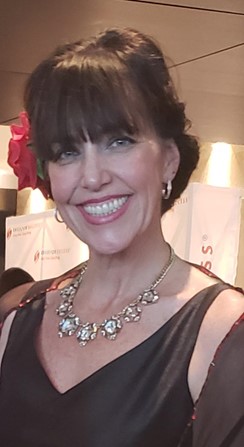 Rose resigned from her job in non-profit leadership to pursue a new career in software development. She was accepted into a training program and provided her employer ample notice, but they ignored her resignation and fired her 12 days later.
Stunned, she discovered her non-profit employer was exempt from paying into unemployment insurance so Rose had no income while she waited for the training program to start. But she was eligible for a retraining grant through the Ohio Department of Jobs and Family Services and that paid her class fees. Even more importantly, she was referred to Dress for Success Cincinnati to get suited for interviews. Using money from a small pension to support her son and herself during the transition left nothing for a new wardrobe.
Rose went to her suiting appointment not knowing what to expect and actually felt guilty because she had always been self-sufficient. She felt unworthy. Rose says all her negative feelings melted away as the staff and volunteers warmly welcomed her.
She was amazed at the depth and variety of programs offered: everything from job coaching, resume services, wellness classes and, of course, professional clothing! She had not interviewed in many years and she felt intimidated. How did she explain leaving a steady job for a new industry? Overweight from eating her feelings of unworthiness and anxiety, Rose felt horrible about herself. Her confidence was at an all-time low.
But her personal shopper in Suiting was kind, helpful and very encouraging. She left us that first day with a beautiful suit and a desire to be part of the organization. She was determined to volunteer and give back as soon as she found a job.
Rose was finding it very difficult to break into this new technology field. She had a decent resume but no confidence and with repeated rejections, grew more and more discouraged. Then Dress for Success Cincinnati called about a mock interview opportunity with our Going Places Network for women looking for work. Rose went—and saw there was a room full of women just like her with struggles and strengths and working to better their lives. She found the Dress for Success Cincinnati Career Center. Rose says not only did they help her improve her resume but also helped her find the right language to explain her decision to transition careers.
Rose's confidence grew each week passed as she listened to job coaches, program directors, HR representatives and her sisters in the GPN. She started applying for more positions. Her new confidence led her to tackle her health and wellness challenges and she began exercising and adjusting her nutrition. She continued to attend GPN each week, graduated the program and was asked to continue with the program as a peer mentor. In the 6 short months since she had first entered our doors, Rose had lost 30 pounds, gained a sense of confidence in herself and her abilities and felt empowered to become the best Rose possible.
Today, Rose is an IT Quality Assurance Analyst at a major insurance company here in Cincinnati. Rose says Dress for Success Cincinnati transformed her life.
Story #2: Shara, client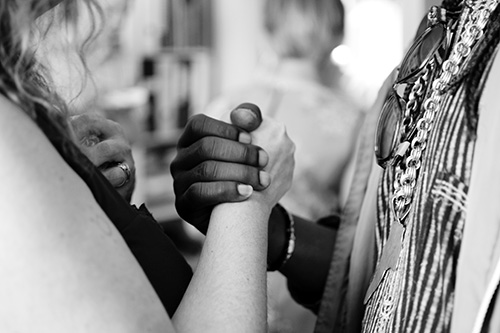 You've heard of the heroin epidemic?  Shara was part of it. She's a recovering heroin addict. Only one of her children lives with her – one died of SIDS, and she lost custody of two when she was on drugs. She was in and out of schools, relationships, jobs, and custody hearings over for most of her young life.
A child of divorce and an abusive, alcoholic mother, Shara was drinking in junior high and doing party drugs in high school. Her father kicked her out when Shara got pregnant the first time. She moved in with an aunt who helped Shara finish high school on-line, but she couldn't keep Shara from self-destructing.
Through the years there was more drinking, more drugs, more boyfriends, more lost jobs and more pregnancies, and finally a painful surgery that led to addiction when her boyfriend convinced her heroin was the same as the narcotics in painkillers a doctor would give her. Shara's been homeless and she's been suicidal.
Finally, at rock bottom, Shara checked herself into a residential rehab program and then into a maternal addiction program. Shara says the final miracle was that program's referring her to Dress for Success.
Dress for Success surrounded her with support and encouragement and the company of women, who didn't judge her. She says she got confidence not just from the clothes, but also from the programs at Dress for Success—confidence that she could go back to school, get a job and, finally, be a good mother.
Shara has been clean and sober for almost 10 years. She only takes real medicine from a real doctor. Shara worked hard to get ready and get things done things to go to college at Cincinnati State. She is now a registered nurse and a state-tested nursing assistant. Her plans include earning her Bachelor of Science degree in Nursing. Shara says she is blessed to have the support she has now, and she is going for the future—for herself and for her children.
Story #1: Shiba Shorter, client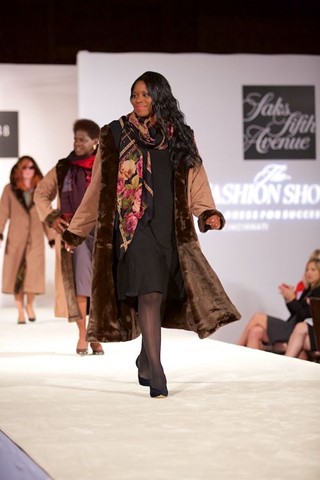 Shiba came to us when she needed help. Now, she helps us!
Once on the run from an abusive fiancé with her two young children with no close family or friends and little money, Shiba found herself with nowhere to go. At a hospital seeking help for her injured son, she had to utter the words "I am homeless." A local crisis center found a place for her at The Brighton Center, which introduced Shiba to Dress for Success Cincinnati -- and she instantly fell in love with us and our mission.
Shiba became an intern at Dress for Success, gaining confidence and a long-lost feeling of safety. Shiba says everyone at Dress for Success supported her in her job search. She honed her computer skills in our Career Center and was fitted for her Interview suit. Shiba even was a client model in Dress for Success Cincinnati's Fashion Show in 2015! She now volunteers in our Saturday Suiting Program.
Shiba attended Gateway Community and Technical College so she could become self-sufficient -- and lead by example for her kids. Today Shiba works for a local law firm. She's proud of herself, her children are proud of her – and so are we!